Leading Women in Business-Mastermind AND Fizz, Fun & Fab Females-Weds Feb 2...
If you're a business owner in Manchester and you're craving like-minded women to bounce ideas off, have a chat to, and share a glass of bubbles with then come and join the Leading Women in Business Mastermind and network event.
This is for you if you are a business owner, a prosective business owner or a partner in a business and you are looking for entrepreneurial inspiration and support in a relaxed environment.
This isn't your average mastermind or networking event. Come and find out for yourself. Grab your ticket today and we'll see you there!
This month we are heading over to King Street, Manchester (venue to be confirmed).
Leading Women Dream Board
This is our mastermind group for women business owners. Consider us the 'board you could never afford' with female business owners from all industries get together for an afternoon of creation, education and problem-solving. Spend the afternoon with other like-minded people who are growing their businesses and learn how they are doing it.
The format for the first 90 mins is a learning session where we go into depth on one area of the Magnetic Business System :-
Publicity - Social Media, Digital Marketing, Offline Advertising
Profile - Public Speaking, Writing a Book, Networking
People - Recruitment, Managing and Motivating, Succession Planning, Development, 'HR'. Client development. Sales. Account Management.
Product - How to create your unique business system, your unique product or service, or how to 'productise' your service, New Product Development
Profit - Systemisation and Automation, Delegation and Outsourcing
After the break there is a round robin – finding one issue, problem, challenge or idea from each attendee, then voting on the 2/3 we will discuss in more detail.
Fizz Fun and Fab Females Networking 5-7pm
After the event, we will be joined by the rest of our Leading Women for the networking session 5-7pm.. You can book for the Mastermind (which includes light lunch and the networking event) or just for the networking.
Here are some of the written comments from some of the last events:-
"Michelle's story was very moving and powerful"
"Loved the educational spot by Carole!!
"Lovely mix of ladies and great food and drink"
"Love the opportunity to work on a skill"
"Love how relaxed it all is - chat, laugh and have a drink - winner!"
"I love learning and its great to know I will be learning new stuff at future events"
"Relaxed supportive atmosphere, learnt a lot and had fun!"
"Fab Fizz, Food and Females - does what it says on the tin"
"fun event, very welcoming, educational and engaging"
"love that I am learning something every time"
"different type of networking"
These events are designed to be STRESS FREE, educational and inspirational - and we guarantee Fun, Fizz and Fab Females.
March Event Sponsor - tbc
So much more than 'just' Women in Business Networking - This is Fizz, Fun and Fab Females!
Fun - we believe that networking, like business itself, should be fun. And whether your definition of fun is - chilling out with old and new friends, learning, laughing, being inspired, inspiring others, shopping, talking business - these events are designed so that you get what you want out of them.
Fizz - who can have fun on an empty tummy? So all out events have high quality catering and drinks. Whether your idea of fizz is Prosecco or sparkling water, you choose what best accompanies your canapes, crudites, mini wraps, bamboo bowls or bruschetta platters - meaty, veggie or vegan.
Fab Females - the group is a diverse and inspirational cross section of Manchester business society (and online - UK wide). The one thing everyone has in common is an openness to learning and self-development, a wish to support and be supported by other women in business and a well-developed sense of fun. This is not boring networking by numbers.
Time and Date
Wed, February 28, 2018
12:00 PM – 7:00 PM GMT
Be Inspired on International Women's Day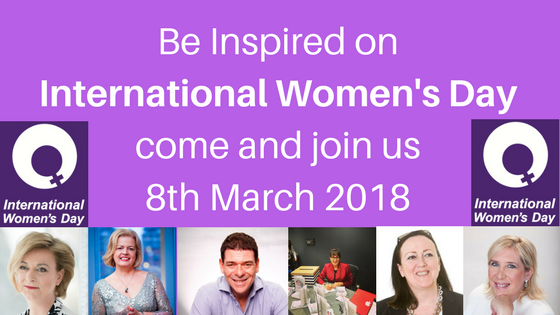 Come and be Inspired on International Women's Day at the Salford Marriot Hotel.
6 International Speakers including Marie Diamond (featured in "The Secret") will help you to develop yourself and your business with inspiration, motivation and education. Followed by a special networking event 5-7pm.
Manchester based Leading Women and Business and the Find Your Why Foundation are proud to collaberate in hosting this amazing event. 
WHY IS THIS FOR YOU?
This event is for you if you are a woman in business or support another woman in her business.
You will be inspired, motivated, laugh and cry with the crew of internationally acclaimed speakers including Cheryl Chapman of Find Your Why, Carole Fossey of Leading Women in Business and Marie Diamond, Feng Shui Master and featured in "The Secret". Our other incredible speakers include Gill Barham, the health Coach, Marion Bevington, Author and Dene Stuart, creator of The Thinking Revolution.
After, from 5 - 7, is your chance to network with other Manchester business women and men and form new relationships and perhaps collaborations of your own!
Time and Date
Thu, March 8, 2018
9:00 AM – 7:00 PM GMT
LOCATION
AC Hotel by Marriott Manchester Salford Quays
17-19 Trafford Road
Salford
M5 3AW